Dryer Vent Cleaning & Dryer Duct Cleaning Service in Phoenix, AZ.
Keep your home safe, energy-efficient, and allergen-free with professional dryer vent cleaning by A-Z Air Duct. Compare our quality services, learn about the dangers of a dirty dryer vent, and find out how we can work with you to create comfortable air quality for your Arizona home in the Phoenix Metro area.
As a full-service air purification and cleaning service provider, we understand the discomfort and danger of dirty, dusty ducts and vents in your home.
Just like your air ducts, your dryer vent is a common place where dust collects. Our cleaning service uses state-of-the-art equipment and expertise to remove fire hazards and allergens from your home.
Our family-owned and operated company in Arizona offers you reliable cleaning services that solve dirty dryer vent problems. As a local company, we understand the unique concerns in Phoenix. Don't let dust fill your home with allergens and other debris, but work with us to restore your air quality.
If your dryer ventilation hose is damaged, we can repair or replace the flexible portion from your dryer to the wall. We'll inspect the ventilation and alert you to any potential issues that may require professional repair.
Dirty Dryer Vent Problems
A dirty dryer vent poses three critical problems. Here are the main reasons you need to keep your vents clear.
Risks Include
Increased risk of fire

Reduced air quality

Reduced energy efficiency
Dust and lint trapped in your vents can heat up as your dryer runs. Whether you have a gas dryer or an electric appliance, the heated air that is forced through the vent can cause lint and dust to ignite.
Does your dryer screen always seem to be full of lint? Some of that lint may be coming back through your vent, reducing the energy efficiency of your appliance, and reducing the quality of your air.
If you've experienced regular dryer issues and are tired of replacing or repairing this appliance, you may need to schedule a cleaning. A dusty dryer vent decreases the lifespan of your dryer and increases the risk of a breakdown.
How We Can Assist
Connect with a local air quality expert in Arizona to receive quality vent cleaning and air purification services. When combined, these services promote healthy air and a happy home. These services are particularly important if someone in your home has allergies, but every individual can reduce their risk of illness with pure, fresh air.
Why Choose Us
Work with a fast-responding, local, reliable service provider in Phoenix, Arizona. Request a free quote for a comprehensive dryer vent cleaning service that outperforms other solutions. Find out how satisfied customers feel about our innovative services and discover how you can fall back in love with your home thanks to fresh air, reduced allergens, and efficient dryer use.
Commercial Services in Arizona 
Residential Services in Arizona
We're confident we can improve your indoor air quality and assist you in providing a safe, efficient space for your employees and customers. Don't wait to improve the productivity and mood of everyone in your commercial building. Work with premier Phoenix-based high dusting experts. Call (602) 466-2234 or contact us online today!
Click here to see our service areas in and around Phoenix, AZ.
Want to learn more? Check out our blog to get common questions answered.
Still getting started? Click here to return to our home page!
---
View Our Air Duct Services in Arizona
Residential Services
Commercial Services
More From A-Z Air Duct in Phoenix, AZ
---
Arizona HVAC & Air Duct Cleaning Services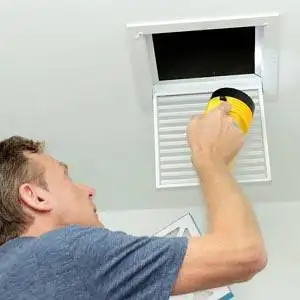 Air Duct Cleaning Services
Air Purification Services
All Residential Services