Residential Duct Cleaning Services in Phoenix
Residential Duct Cleaning. When you're ready to restore your home's air quality and enjoy clean, energy-efficient air all year round, turn to A-Z Air Duct. As your local in Phoenix, AZ, family-owned company, we provide comprehensive air duct cleaning services for your entire home. Refresh your home and reduce allergens by contacting our talented team today.
Our Air Duct Cleaning Services
As part of our professional residential air duct cleaning service, we use the latest air duct cleaning tools and techniques. We understand the unique air quality concerns of our neighbors in Phoenix, Arizona, that is why we can provide the specialized steps that keep your home safe and comfortable through cool winters, sweltering summers, and monsoon season.
Steps that are involved in our premier services:
Thorough inspection

HEPA-filtered vacuum cleaning

Follow-up inspection
Our inspection service looks for signs of possible damage throughout your ductwork and the scope of dust and debris. Next, we use our innovative HEPA-filtered equipment to clean the air and surfaces of dust, pollen, and other allergens.
After connecting a vacuum unit, we perform a compressed air flush to force any lodged dirt and debris out of your ductwork. We always carefully inspect your home and your ducts to ensure our cleaning service has created the level of air quality and purity that we stand by.
Related Air Cleaning Services
In addition to our excellent duct cleaning service, we offer a range of other residential cleaning services to keep your home safe from allergens and dust.
Common services that you can include in your next scheduled cleaning:
For holistic cleaning and optimal air purity in the Metro Phoenix area, A-Z Air Duct is a leader in affordable services. Enjoy your air conditioner this summer without worrying about excess debris or allergens.
Bundle services together to enjoy low-cost air purification and duct cleaning. Don't let monsoon season take its toll on your air quality, but allow our team to restore your home's fresh air through proper filtration and dust removal.
Commercial Services in Arizona 
Residential Services in Arizona 
Choose A-Z Air Duct Today
Receive a free quote today from A-Z Air Duct to get started with your high dusting services. We'll send a qualified technician to thoroughly inspect your building and recommend a high dusting schedule.
We're confident we can improve your indoor air quality and assist you in providing a safe, efficient space for your employees and customers. Don't wait to improve the productivity and mood of everyone in your commercial building. Work with premier Phoenix-based high dusting experts. Call (602) 466-2234 or contact us online today!
Click here to see our service areas in and around Phoenix, AZ.
Want to learn more? Check out our blog to get common questions answered.
Still getting started? Click here to return to our home page!
5 Signs of Indoor Atmospheric Pollutants
Do you find yourself dusting more than you usually do?
Do you notice any odd smells or odors when your air conditioning or heating is running?
Do you see a thin coat of dust lining your air ducts?
Do your air vents have black blemishes on the grills?
Do you or your any of your family members get more severe allergies or breathing problems at home?
If you did in fact answer "yes" to one or more of the aforementioned questions, you may be a candidate for air duct cleaning. Fortunately, A-Z Air Duct is an industry leader in this field and the number one choice of Phoenix residents considering duct and vent cleaning.
What Are The Benefits of Choosing an Air Duct Cleaning Company?
Protects the health of family members and guests;
Improves indoor air quality;
Reduces operating costs and increases the HVAC system's operational lifespan;
Reduces energy usage, which in turn lowers utility bills;
Often discovers small problems that can be fixed before major repairs are required.
A-Z Air Duct is proud to be the premier air duct cleaning company in Phoenix. We invite you to contact our family-owned cleaning company at 480-568-6451 to learn more about the HVAC services we offer to clients in the Valley of the Sun and the surrounding areas.
What Will Happen if I Don't Clean My Air Ducts?
If you haven't had your air ducts cleaned for a couple of years, you have very little to worry about. However, if it has been years and years since you home's air vents have been cleaned, especially in older homes, you and your family could be at risk for mold, pest infestation, dust, and even asbestos.
How Can I Keep My Air Ducts Clean?
One of the most common questions we receive from customers is about how they can continue to keep their air ducts clean for years after our service call. The answer is simple! Use high-quality air filters, make sure that your air ducts are properly insulated, have professionals do any maintenance or new duct work, and conduct periodic checks.
What Should I Expect When Having My Air Ducts Cleaned?
When you work with a professional, trusted air duct cleaning company, such as A-Z Air Duct, you can rest assured that your technician will do a thorough job. Our friendly air vent/duct cleaners will begin by assessing your entire HVAC system for problems or potential ones, he will then use professional duct cleaning equipment to ensure that your vents are safe of any pollutants, insect infestations, or allergens, and when finished, he will provide you with a full overview of his findings and the work completed.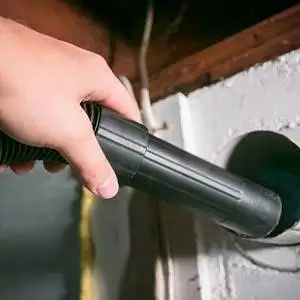 Dryer Vent Cleaning Services
Air Purification Services
All Residential Services
Add a dryer vent cleaning with your home air duct cleaning for only $74.95!
Usually $174.95 ($100 Value)