Despite maintaining your HVAC systems, changing filters, and thoroughly cleaning floors and work surfaces, your commercial location may still be harboring dust and debris that is affecting your air quality. Don't let hidden dust contaminate work areas or reduce your indoor air quality. Learn how A-Z Air Duct premier high dusting services can offer you comprehensive cleaning of overlooked areas.
Premier High Dusting Services
High dusting targets all those dusty areas that are often overlooked in commercial buildings. Many commercial buildings are designed with lofty, open interiors. This is an excellent way to make your building feel larger and provide easy access to electrical, plumbing, and HVAC components.
However, open-concept ceilings create many areas where dust can reside. Here are just a few common areas that our dusting service can clean:
Vents and ductwork
Overhead lighting
Doorways
Shelving units
Beams
Restaurants, factories, warehouses, and other commercial locations deserve pure air. As part of our commitment to air purification, we offer high dusting services to clear these hidden areas of dust.
High dusting is a unique service that typically isn't covered by traditional cleaning companies. As HVAC experts, we understand the importance of indoor air quality, and that often starts by removing all the hidden dust and debris from your location. After identifying dusty areas in your building, we use the latest safety equipment and cleaning agents to thoroughly clean your high areas.
Benefits of Commercial High Dusting Services
Dust on these high areas can dramatically reduce the air quality of your building. Poor air quality is linked with decreased customers' moods, workers' productivity, and overall health.
Restore your indoor air quality and improve your building's environment. Our efficient high dusting service team uses specialized equipment and safe practices to reach the highest, most hidden areas of your building and thoroughly clean them.
Choose A-Z Air Duct Today
Receive a free quote today from A-Z Air Duct to get started with your high dusting services. We'll send a qualified technician to thoroughly inspect your building and recommend a high dusting schedule.
We're confident we can improve your indoor air quality and assist you in providing a safe, efficient space for your employees and customers. Don't wait to improve the productivity and mood of everyone in your commercial building. Work with premier Phoenix-based high dusting experts.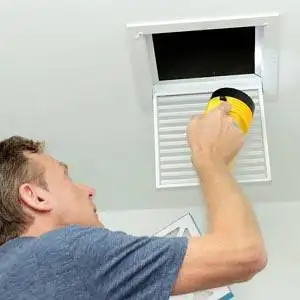 Air Duct Cleaning
Air Purification
All Residential Services