Negative Pressure HVAC & Air Duct Cleaning Company
Negative Pressure Air Duct Cleaning can keep your home clean and your air pure by choosing a professional negative air duct cleaning service today. As you use your HVAC system, your air ducts collect significant amounts of dust and other contaminants.
Learn how negative air duct cleaning and air duct inspection services by A-Z Air Duct can help keep you and your family safe from airborne contaminants in Arizona.
Benefits of Negative Air Duct Cleaning?
While there are several air duct cleaning methods, a competitive option to ensure your home remains free from excessive dust is negative pressure air duct cleaning.
Negative pressure duct cleaning uses a vacuum to create negative pressure in your system. Using negative pressure, compared to forced air cleaning methods, not only clears your ductwork but also filters your air.
For prompt and efficient negative air duct cleaning, your professional HVAC technicians need access to your ductwork. Our team at A-Z Air Duct can clean your ductwork through supply and return grilles throughout your home.
However, thoroughly cleaning services may require additional access points.
Our professional team can accurately cut your ductwork to create access points to remove dust, dirt, and mold that may build up in your ducts.
After we completely clean your air ducts through the new access point, we use the latest air duct sealing tools and techniques to restore the airflow of your heating and cooling system.
Importance of Proper Air Duct Cleaning
Your HVAC system has a premium air filtration system designed to reduce the amount of dust and debris in your air ducts.
However, if your air ducts begin collecting moisture, mold can collect on all the interior surfaces of your air ducts. Here are other benefits you can expect from professional air duct cleaning by A-Z Air Duct:
Improved energy-efficient
Increased airflow
Reduced dust
Reduced risk of mold, vermin, and other issues
Choose Us For Negative Pressure HVAC Cleaning Services
As your premier air duct cleaning company in Phoenix, A-Z Air Duct is committed to providing prompt, professional, and affordable services for your home and commercial building.
We proudly service Phoenix and the surrounding area with a wide range of cleaning and purifying services for your air ducts and interior air. If you're interested in learning how to clean mold out of ductwork or need more information about negative air duct cleaning, contact us today.
If you haven't had your air ducts cleaned for a couple of years, you have very little to worry about. However, if it has been years and years since your home's air vents have been cleaned, especially in older homes, you and your family could be at risk for mold, pest infestation, dust, and even asbestos.
One of the most common questions we receive from customers is about how they can continue to keep their air ducts clean for years after our service call. The answer is simple! Use high-quality air filters, make sure that your air ducts are properly insulated, have professionals do any maintenance or new duct work, and conduct periodic checks.
When you work with a professional, trusted air duct cleaning company, such as A-Z Air Duct, you can rest assured that your technician will do a thorough job. Our friendly air vent/duct cleaners will begin by assessing your entire HVAC system for problems or potential ones, he will then use professional duct cleaning equipment to ensure that your vents are safe of any pollutants, insect infestations, or allergens, and when finished, he will provide you with a full overview of his findings and the work completed.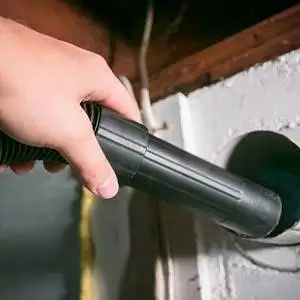 Dryer Vent Cleaning
Air Purification
All Residential Services