Negative air duct cleaning can help keep the air in your business or commercial properties as clean and pure as possible. Your ducts naturally collect significant amounts of dust, hair, and other contaminants in the course of their normal use. There are multiple ways to clean air ducts and keep your HVAC system running with peak efficiency, and negative air duct cleaning is one of the top options.
Our Commercial Negative Pressure Air Duct Cleaning
When we perform negative pressure air duct cleaning, our skilled air purification professionals use the latest techniques and equipment to improve air quality in business and commercial properties near Phoenix, Arizona. We understand that every business is different, so we start with a thorough inspection to ensure that we can take the very best approach for your business. We'll look for signs of damage or blockages in your air ducts, then remove contaminants with our state of the art negative air duct cleaning process.
How Negative Air Pressure Air Duct Cleaning Works
Negative air pressure air duct cleaning is an alternative to forced air cleaning methods. This process relies on a vacuum to create negative pressure in your system, sucking out all the contaminants like dust, allergens, and bacteria. In the process, negative pressure air duct cleaning also purifies your air, which is its primary advantage over other types of cleaning. If we need access points beyond the supply and return grilles throughout your business, we can accurately cut your ductwork to remove even more mold, dirt, and debris. After that, we'll safely seal your air ducts to restore proper airflow.
Benefits of Negative Pressure Air Duct Cleaning
Even a good HVAC system with excellent air filtration won't be 100% successful when it comes to preventing buildup in the ducts. This is especially true if your ducts collect any moisture, which can lead to mold or give dust a place to stick. Negative pressure air duct cleaning will lead to all of the following:
Improved Airflow
Increased Energy Efficiency
Reduced Dust
Decreased Risk of Mold and Other Issues
Related Cleaning Services
In addition to our negative air duct cleaning service, we offer a range of other services to keep your business and commercial properties free from allergens and contaminants. Take a holistic approach to your HVAC system by bundling services like these to keep your business fresh:
Why Choose Us for Negative Air Duct Cleaning
Here at A-Z Air Duct, we pride ourselves on being the premier air duct cleaning company in Phoenix. Our services are fast, professional, and affordable. When our business neighbors in Phoenix and the surrounding areas need help improving the air quality in their offices, churches, businesses and corporate properties, we're right around the corner. Contact us today to learn more about what we can do for your ductwork.
FAQs About Negative Pressure Air Duct Cleaning
What Happens if I Don't Clean My Air Ducts?
It depends on how long you go without a complete cleaning of your air ducts. Over the course of many years, your business will become at much higher risk of mold, infestations, dust, and other contaminants.
How Can I Keep My Air Ducts Clean?
Use high-quality filters and change them often. If you do that and get regular inspections from an air duct cleaning company, you can rest assured that your ducts are in good shape.
What Should I Expect When Having My Air Ducts Cleaned?
Our skilled technicians will walk you through the entire process. We'll start by checking for pollutants, insect infestations, allergens, and more. We'll also confirm that your vents aren't damaged in any way that would prevent the efficient delivery of pure, treated air. Finally, after the cleaning itself, we'll give you a full overview of our findings and the work completed.
How Long Does Negative Air Duct Cleaning Take?
We can normally complete our thorough process in three to five hours.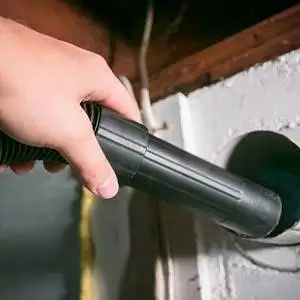 Dryer Vent Cleaning
Air Purification
All Residential Services